SFTP access for importing data is currently a beta feature. It is available by invitation only.
The same functionality that is available via the batch uploaders in the application is available via automated uploads using our SFTP service.
Getting Started

You need to register SSH keys with our system to gain access to the SFTP service. There is no limit to the number of keys you can have in service at a time. So if you want to upload from multiple sources each one can have its own unique key that can be individually revoked without affecting your other keys. It also means that you can generate new keys and roll credentials over with 0 downtime.
Generating a Key
Once your public/private keypair are generated, please refer to your SFTP client software's documentation for usage.
Supported public key algorithms
ECDSA (384 bit or 521 bit)
RSA (minimum 1024 bit, recommended 2048 bit)
ED25519
Windows

These instructions assume you are using PuTTYgen.
Open PuTTYgen, and select "Generate":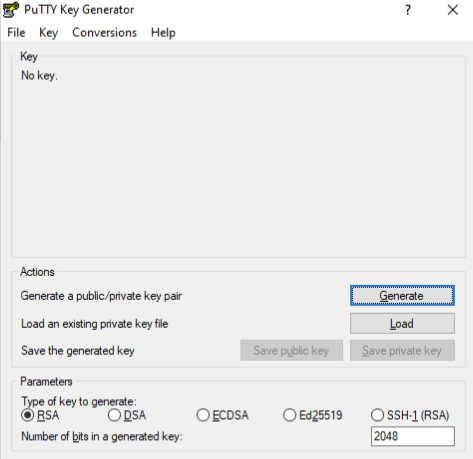 Follow the instructions it presents:

Afterwards, PuTTYgen will present you with your public key: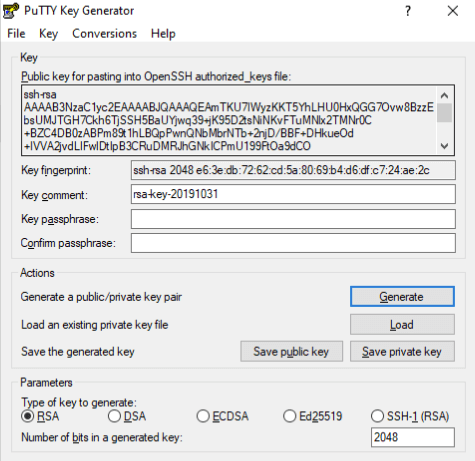 Enter an optional passphrase if you'd like one (and your SFTP client supports it).

Save the private key, then select the output in PuTTYgen's window and save that as well. This is the public key you will enter into your Digital Onboarding settings tab: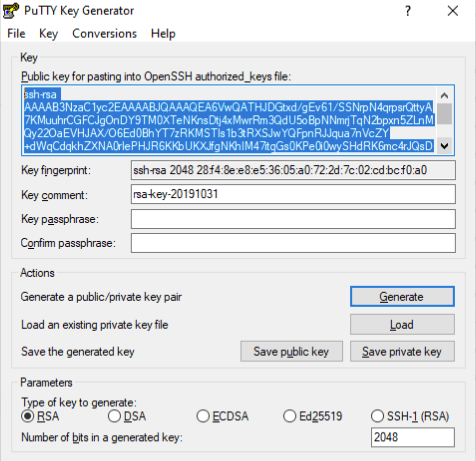 Converting SSH2 public key to OpenSSH format

From PuTTYgen, load your private key file, and copy the output in the window as in step 5 above.
Unix-like

From a terminal session:
$ ssh-keygen -t rsa -b 

2048

 -E sha512

ssh-keygen will prompt you for a location to store the public/private keypair, as well as an optional passphrase. Note that you can provide different values to the arguments to generate other types of public keys.
Converting SSH2 public key to OpenSSH format

From a terminal session:
$ ssh-keygen -i -f ssh2_public_key_file.pub 

>

 openssh.pub

This will output openssh.pub in the appropriate format for use in your settings.
Add your public key to Digital Onboarding settings

Once you have generated a key, copy its public key and enter it into the SFTP tab in your Digital Onboarding settings.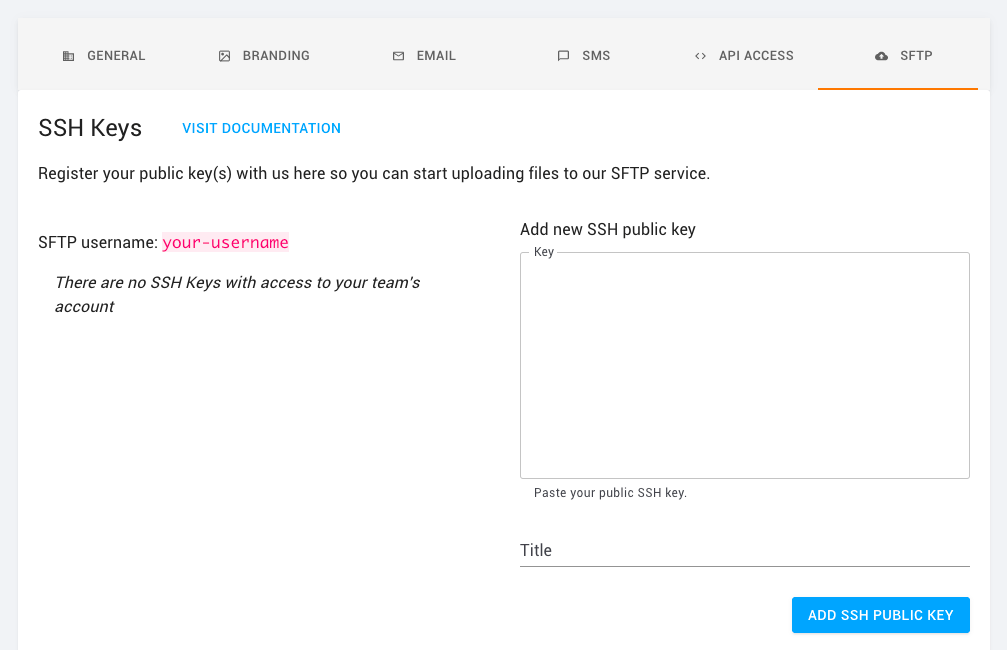 The title of the key is purely for your own ability to keep track of keys so choose a name that is meaningful for your team and will help you keep track of which key the public key represents. The title will also be shown in audit logs to help you track when events occur with this key.
Connecting to the SFTP service

Once you have a key registered you can connect to the SFTP service at sftp.digitalonboarding.com on port 2222. Your username will be your team's subdomain. So, for example, if your team uses Digital Onboarding by going to https://mybank.digitalonboarding.com, your username will be mybank.
Testing

After connecting to our SFTP service, you should see two folders (contacts/ and templates/). If you'd like to test your ability to upload files, but aren't ready to add contacts to the system, you may upload a file to any directory (including the root directory) aside from these two folders.

When a file has been uploaded, our system will generate an email that is sent to your team's technical contact. In order to ensure proper delivery, you can work with our customer success team to add a technical contact to your team.
Uploading CSVs

Paths in the service mimic a RESTful API – they are actually the same paths you would use if you were to use our API.
Contacts

If you want the CSV you are uploading to be treated as if it were uploaded to the contacts' batch uploader in the admin interface you should upload it to the /contacts/ path. The actual filename is not significant and does not matter.
Templates

If you want the CSV you are uploading to be treated as if it were uploaded to a specific template you would need to know its id. If, for example, your template's id were 6783a405-138a-497f-bf0b-d5ef53cae356 you would upload the file to the /templates/6783a405-138a-497f-bf0b-d5ef53cae356/ path. Again, the actual filename doesn't matter and is not significant.
It is important to note that as soon as uploads are processed they are deleted from Digital Onboarding and we do not retain copies of them. This means that files previously uploaded will not necessarily be visible the next time you connect to the SFTP service.
Our SFTP service runs on multiple servers behind a load balancer to ensure that it is stable across server faults and high loads. That means that you are not guaranteed to connect to the same server every time you connect and is part of why you should not expect artifacts from one session to be available in the next session.
Sending Digital Onboarding PGP Encrypted Data

Note that encryption is not required for file transfers, it is entirely optional. If you choose to sign the encrypted file with your public PGP key, you will need to upload it to the admin panel shown below: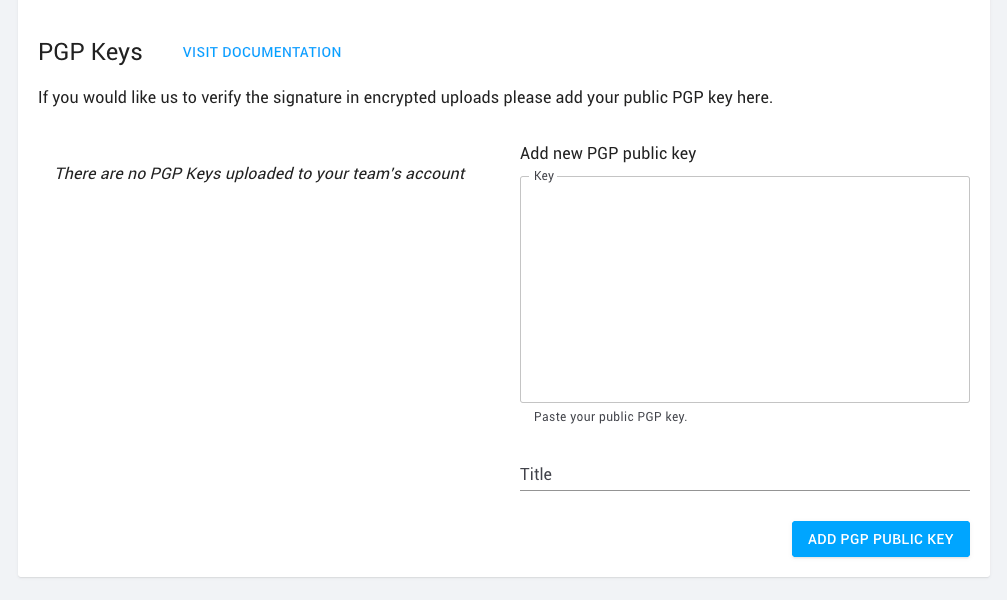 Please be sure your encrypted data file has an extension of either: .gpg, .pgp, or .asc, otherwise we will not be able to decrypt the data. Once we receive your data and decrypt it, you should see it imported in your team.
Use the Digital Onboarding public PGP key below to send us your encrypted data via SFTP.
Public Key
-----BEGIN PGP PUBLIC KEY BLOCK-----

mQINBF3XAsMBEACp7hjGBa5+

2

Z4ydfToHhhIpQoQOMR+neyBo/

48

yvNhjBy9b16V
UXZVlcSkieRc12MQSHi7wnSR7w2ZvIV3riO/vuFTiVDE7ny/KxWx+mqfxfafQaMC


353

qLD4EIVvelaPzZA2eB+hmyF05+ezXMqFE5Eeev4ikxY+VvcncYcp5gyRZ2gUG
ErAhNQW4Ie6HjSK0j9MKi/H1SRX8gONZ+eY4xgj+J6qw97tUF4nVG4P4ux3UbaSU
aQWp38n9uUzjF6yhbLu9PYrs2hHaqwV0WmVBbQ2EWIHxKVamGedSFatC6tsmNS6D
IjucGathb4W0JsFdfiBbeaxZAxwlrGcY70CSFJ5FAvXQRauS+ORAo2DJCcDaLYID
kiGG/sgrVt4gYDDRORXZSnBxzgYa9oL6QAF98BoFOGRfNzfdZEjY7A2r0cyNDWwS
qBrnXuWfPaL9/dOzAMXg+wuGYutt++DyjQFNeoDDkJjKKrhnohZypb1XKJ6lWQq3
o+SusnF6WIoEpWdC810fopQSo/

5

Jtf5lgef+tuvsd5qPv0ixFgoOShH4ADscz+

5

e
a/sgsTre0R1Aav9JN7xKeRLHMLwzeWN34oOJCmOngOahAMsrEoLrRrNTS6Fu4+bF
RABEMbukUgCcM87x98Kp/M4n69Wr25U8sbwubXuacmRR0lOWjKA9xkblfQARAQAB
tBxEaWdpdGFsIE9uYm9hcmRpbmcgKHByb2QpICgpiQJUBBMBCAA+FiEEsEudUep1
R7Cz+EmTHaHIVdJBrbQFAl3XAsMCGwMFCQeGH4AFCwkIBwIGFQoJCAsCBBYCAwEC
HgECF4AACgkQHaHIVdJBrbTd7Q/

5

ATxv54CG0FBB97OgDuTCu9evjQ8XGetOEFIc


5

qEuTUxNKbKDwh67RQ3OwPGmFVNaFRlth8RDUvkf4zcqh/FS5aGchdAGyivmDJFh
DOe9D9BDVbt9OROKpKDtpFpccHGHH438qa1FfzfRrlvPWTnUd/

26

pHih1n/VAhA4
nqqdnanJIZzHlAI32hjwGq3vIVY87H2jc3XUOk+dyd+crdbjkku1wMD82Ax+teuW
UhGR5HIU9yo9DFop0FMhOhIMXCGYpRja0yP+eZIGOJ+BZpvuxeiM13fB4IqbJm73
Rf0mp9w+

5

oAYr2h/

6

jqj6HlbegFQI2tQ/

3

itXCz1iO6mACqlBUT1LD7/

6

uyBp/Dd
viXpisK6PM6CdXpyN15ZZIicZfQaVRvYY6o74+f7+z0RwNoC56eJ3hIRjcvLtLOy
NcPMnZpAZOZ/

9

PjtP3lAZBoX0zf9izHO6jfw7nseuZkmlzT3jBtjxwGau+hYgnub
/wnXdYh3fzXtZooI2ZOCgyh+QTLAdQKr+

3

ceYwins22kBNv2iE4ofaY7i1tzpgSo
MYat2RGzSUBcovAts/qBTaRgpXTqJ40Mb0wVPSe3vlxs1kxk9WCjR0RwKhZ4dSMf


4

erE0srZYVrKromDjBtsPSLCQfN6JiwBcJ4KewSBE+VGzH8UDrmLWnviGeuIrDV5
Hsez7Pu5Ag0EXdcCwwEQALlLTqFpiGbwZUfryI4SaCS955oOJezcjKkyRBU4FLh0
zc8jXi1uo76BGTeO5EvUPZ2dS+EAxl6nRSBKrHP3z0dUsUwzFpCksN1vI/m358Oh
kkX59sBrHYHQofqsxLcPE0ZzEby8KTIBKiU7zTxcBLU3Q9CVa5SNBKQD+yylvlV3


1

xERw50yMLfhS3TBWgWBoiIs31vXzVWklSykXEt2ElRCv7bmtJkgtBJeC/rmu+o+
ZRrWOYrO4uwDvqUjCLndZohBSongMAG2+xCoAs2Q93WaomUAfOpmuCC5bbqtwZpG


7

kp/X4MZyb1ktx0OaDMShVnLKRkeue5jDzIwuSw/mphlbJffWNhYDPBXJCyQ1pXK
yi6HxTLigP9x9XFFJcjr66cwCRcdbp7yZXYL5zzHxf3evEKzLHVY4uTOBl14iiG8
q6QHpDQjU11kOujJabegBcId+VT1TRmCeTTCctnDrzEoPct8vVtxqVvp1REgf6s9
DH2UKnFYuTu3YYXrpq5Dfo9NrVWSEorrYdjBgJd/

4

ScfA4CPRkb98vzNhfd3KU9T
iSIw7iKW/j7sm5ZhUHbf8wIHLsiiK814rHQYC1EoxLn4JJc/CrxXNkuLPNmQJhRX
g1AFpUqvCRFPvtrzVWVFgONGaReqL1kmhlNH94zL0rxw48Ke9OTKNIuusC+KXm0F
ABEBAAGJAjwEGAEIACYWIQSwS51R6nVHsLP4SZMdochV0kGttAUCXdcCwwIbDAUJ
B4YfgAAKCRAdochV0kGttPdkD/wLJqeEVP+Bi4gcmF4ie1372+hTdqOlDId382NH
ssMew31gfi+

2

beK/xq5Ztdcu+zErjVnht+RpIbebxheiZc33ICaVgzSiht9njcEi
R4psX6Wp6oT2CNSecLrMoxy8hfW3TX1A10YYhKnLeLBMbHr0DnnzhwoOEgn+OIoF


5

TDpjKbPfp6xWN8axgLw/vdoTNiliYgqDfug+Ge03KLEfOIBNBNU5nKH2UvpNMPO
QOAXDcRdLoId53YVyOytbLJX0iFYSoAXSxcgN6apmjt3BO5yOzDg9JM9jFIbVICq
xUROJRtT/X2DdjI3HWvMcw3icvcf2CLes1tyauY0T0NorchmP5lFSaNxjKOYk5wO
qEUWGZmynwys0m/V+

49

Jz3kO5D4lNP9DGD2AHOAOVjGf3c6PlrldDHep+V1PHzCa
SGpwcpzjHGleoxFD02zwLhdKHLvLsyu8VpyAxVHh77mg9C7HtXdZCd0f7cWehrBq
JuguEtqY9NQx1W3APVGqi/rO/fON3f0lr7uabOW2gSY+zBF4xys2DyMHzUBjyP84
NMO6sFQ6OyTcaTMPwBoq5bEpyhTieXz3bkrvscFA5forPN8/s+pTV+

5

A6eqcE/XJ
SKB6rvVdsWlli7hONvLTHne3w8qvldJ2g3Q9lb+bYvzRTFVqkNPhKWlV239pMU2m


8

ICkXQ==
=GE6B
-----END PGP PUBLIC KEY BLOCK-----


Objective Completion

For more information on objective completion, see completing objectives.